English Guide
JHD&C started in 2009 as Japan's first
and only NPO dedicated to hair donations.
What are hair donations?
Hair donation is an activity that makes medical wigs out of hair, 31cm or longer, that you have kindly donated, and gives them to children 18 years or younger in need.
JHD&C started in 2009 as Japan's first and only NPO dedicated to hair donations. Our activities are all funded with donations.
What type of hair can be used for making wigs?
Hair must be 31cm or longer ...
Your hair donation should be at least 31 cm from the cut end to the tip.
Hair must be completely dry ...
Do not wet your hair before cutting it! Mold and bacteria can grow on wet hair and make it unusable.
Naturally curly hair, gray hair, colored hair, permed hair, and even straightened hair is acceptable ...
All types of hair are accepted, except for highly damaged hair that breaks when lightly tugged. Even bleached hair is accepted.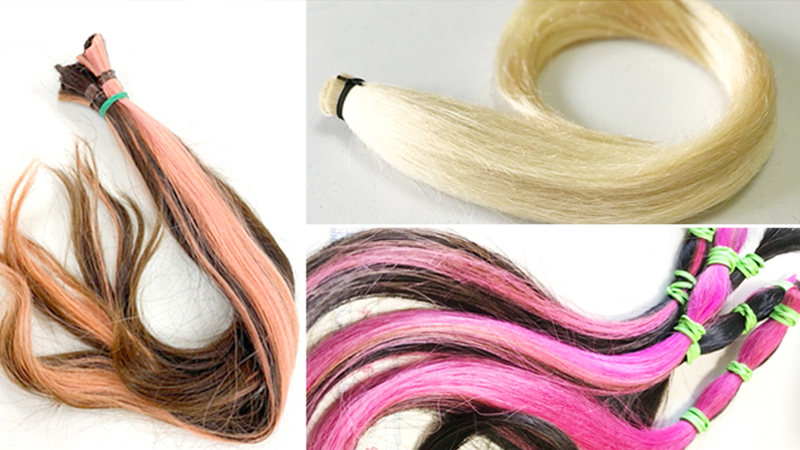 If your hair meets these conditions, we accept hair from all nationalities, genders, ages, and hair color.
We accept hair donations from people currently in treatment and taking medication.
We accept hair that was cut years ago and kept in storage.
We cannot accept hair that has lice eggs, etc.
How can I make a hair donation?
There are two simple steps to making a hair donation.
1. Cut your hair.
Bundle your hair in small batches with rubber bands, and cut at about 1cm above the rubber band. (See the PDF for details.)
If you cut your hair as specified, it can be cut at home or your favorite hairdresser.(If you cut your hair at a hairdresser, you will need to pay their designated cut fee.)
Using rubber bands, bundle each donor's hair into one bigger bundle and put it into an envelope together with the Donor Sheet.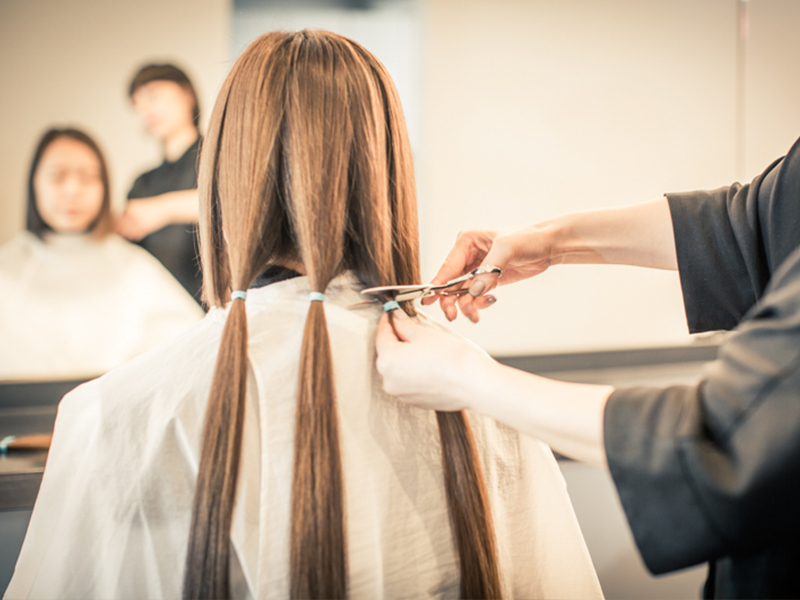 If you would like a Proof of Receipt (card showing that your hair donation reached our office), please enclose a self-address self-stamped envelope.
Write your address (zip code, address, name, and title) on the front of the envelope. Write JHD&C's address on the back (just in case it is returned). Put a stamp on the envelope and enclose it with your hair donation. The envelope should be big enough for a postcard-sized Proof of Receipt.

The Proof of Receipt cannot be sent if there's any problem with the envelope.
Postage is ¥84 for a regular-sized envelope, and ¥120 for a non-standard sized envelope. If you are unsure of the postage for your envelope, please ask at your post office.
If the postage fee is insufficient, you may be asked to pay the shortfall at the time of delivery.
It may take one to two months for the Proof of Receipt to be sent. Please be patient.
Please note that Proof of Receipt can be sent only in Japan. We cannot mail overseas.
2. Send your cut hair to the JHD&C Office.
You can send your donation by regular mail, but we recommend using a shipping method with a tracking service.
Even if you have your hair cut at the hairdresser, we strongly recommend taking your cut hair home and sending it in yourself.
Address
NPO JHD&C
Chiyoda North 7A
13-38 Naniwa-cho,
Kita-ku,
Osaka, Japan
530-0022
Tel. for shipping slip: 06-6147-5316

We cannot respond to inquiries by phone.
Please note that we cannot accept packages that are short on postage or sent COD.
Sending your donation from overseas
We recommend using a shipping method with a tracking service.
How can I apply for a wig?
Please complete the "Onewig Application Form" found on the JHD&C website, and send it to us.
Hair wigs are available to children who are "18 years old or younger" at the time of application and living in Japan. Both boys and girls can apply.
Please note that all communication regarding the provision of wigs is conducted in Japanese.
Persons from any nationality may apply, but the finished wig is a "natural black wig."
The wig must be treated with care. If the wig is chemically treated by coloring, etc., or subject to high temperatures from a hair iron, etc., it will rapidly deteriorate and become unusable.
We welcome applications from persons who understand and agree with these above points.
Flow from application to wig delivery
1. Apply with dedicated form.div
2. Apply for measurement.
… The person in charge from JHD&C will contact you about the measurement schedule.Select the date and time, and always make a reservation.
3. Have your head measured.
…Come to the reserved date/time. A JHD&C staff member will take the measurements individually.
4. Delivery of your wig!
…The made-to-order wigs are completed in two to three months after measurements are taken.
Your wig will be delivered to the specified place, such as your home.
5. Have your wig cut stylishly!
… Ask your hairstylist to cut the wig to your favorite hairstyle.You can wear your wig without cutting it too.
6. Send us a photo.
… Please send before and after photos of your haircut to the JHD&C Office, so that we can report to donors that your wig arrived safely.
We will process your photo with stamps, etc., so that your personal information, such as your face, does not show.
After receiving your application, the person in charge of your case will send you more information by email. We will guide you at each step, so do not worry.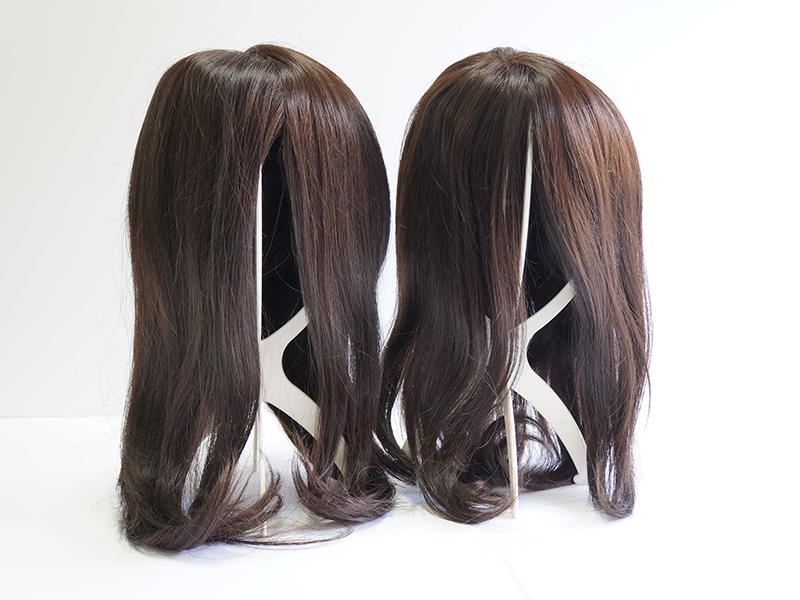 FAQ
How can I confirm that my hair donation was delivered to the JHD&C Office?
If you use a shipping method with a tracking service, you can confirm delivery yourself.
To protect personal information, JHD&C does not save the envelopes that donations are sent in. We commission disposal of envelopes to a specialist.
Also, we receive 200 to 300 donations each day, so we cannot confirm each name, address, date of shipment, or hair salon names. We ask for your understanding.
What is a medical wig?
"Medical wig" is a name that can be used only by wigs that have cleared the strict standards of "JIS Standards compliant product (JIS S9623)."
At JHD&C, we have set the length of hair that can be used for medical wigs as "31 cm or longer." The international standard for hair to be made into full-length wigs that cover the entire head is "12 inches". 31 cm is the metric conversion of 12 inches.
Can I cut my hair for donation at the JHD&C Office?
We do not offer haircuts at the JHD&C Office.
Does JHD&C recommend any hair salons for cutting hair to donate?
First, we recommend asking your regular hair salon. It's best to have your hair cut by a hairdresser who is familiar with your hair texture, your regular fashion, and your preferred hairstyle.
If you do not have a regular hair salon, check out the "Find Partner Hair Salon" page on the JHD&C website. We recommend calling the hair salon to ask whether they speak languages other than Japanese and to find out their rates.
Don't forget to tell them that you want to "Donate your hair" when you make your reservation!
Are there any cooperating hair salons that support foreign languages?
We are currently preparing a search engine so you can find partner hair salons that support foreign languages on our website. Until then, please ask the hair salon directly.
Some hair salons have indicated "Foreign Languages Supported" on their hair salon introduction page.
Can I make a hair donation for a specific person, such as a family member or friend?
Unfortunately, you cannot designate the recipient. The donated hair is unbundled and mixed together before the wig is actually made. Therefore, it is realistically impossible to process the donated hair for use in a specific wig.
Your hair donated following the guidelines will be used for a wig. We hope that you'll consider your donation as a way to help someone, somewhere regain their daily life.
Can we visit the JHD&C Office?
JHD&C holds tours for a limited number of persons during school spring break (March), summer break (August), and winter break (December). These tours are held on weekdays.
Tour dates are announced in the "Announcement" section of the JHD&C official website. Reservations are accepted on a first-come basis.
We cannot respond to individual requests other than the designated tours.Tours are basically held in Japanese. We ask for your understanding.
Always contact info@jhdac.org for use by persons other than educational institutions.
Can we use the JHD&C logo mark?
Our logo mark cannot be used in printed documents or on websites.
Can we use the images, photos, and information posted on your website?
Information from our website can be used by students for class projects and homework, etc. Always clearly indicate "JHD&C website" as the source, and be mindful of personal information.
None of the photos of the children who have received the wigs (the recipients), including photos that have been processed with mosaics, may be used. These photos are provided for limited use on the JHD&C website's Activity Reports.We ask for your understanding.
Always contact info@jhdac.org for use by persons other than educational institutions.